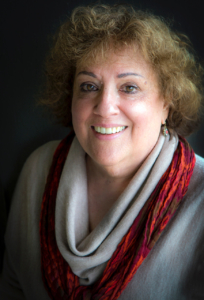 Carol Forgash, LCSW, BCD is the director of Advanced Educational Productions. She is a Facilitator for EMDR Institute Trainings.
She has a clinical and consulting practice in Smithtown, New York where she provides treatment utilizing EMDR and Ego State Therapy for complex PTSD, general psychotherapy, health issues, and performance issues.
She is an internationally known lecturer and consultant on the integration of EMDR and Ego State work and psychodynamic treatment, the treatment of complex PTSD, and the ACE (Adverse Childhood Experiences) legacies on the health and mental health of survivors. In 2015 she was invited as a Plenary Speaker at the EMDR Europe Conference, and a Co-Presenter, with Jim Knipe at the EMDRIA Pre-Conference Day.
Carol is the co-author and co-editor, (with Margaret Copeley) of Healing the Heart of Trauma and Dissociation with EMDR and Ego State Therapy (Springer, 2007). It has been translated into Italian and French (2015)
Healing The Heart With EMDR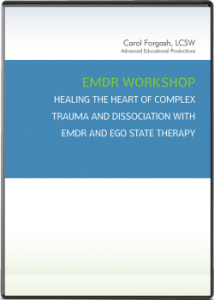 This workshop will present a Cross Training model: the cutting edge integration of EMDR , trauma informed phase oriented therapy, and ego state therapy in the treatment of highly traumatized clients. A major focus will be the exploration and negotiation of the extensive preparation phase that is often required to safely build up stabilization, affect and dissociative symptom management skills, and the therapeutic relationship, prior to the actual trauma processing and desensitization phase of EMDR treatment.
Participants will be taught how to weave these methods into EMDR treatment to help complex trauma clients develop appropriate internal and external boundaries and acquire skills to promote affect regulation. Having established these prerequisites, participants then will learn how to use this cross training model for successful EMDR reprocessing.
Although I've explicitly been interacting with clients' parts for years, the way Carol so creatively collectively works with them, has been a missing piece for me. Her approach helpfully expands my understanding of parts work as well as greatly enriches my repertoire of interventions. I can't wait to immediately apply what I learned. Refreshingly direct, down to earth and delightfully humorous, Carol teaches from a place inside herself of highly informed, deeply lived clinical experience. If you haven't already done so, I'd recommend availing yourself of learning from this engaging wise master within our community, sooner rather than later.
As a trauma therapist using EMDR as my primary modality but needing additional tools for dealing with the dissociation and attachment issues that often come with complex trauma, I have attended many workshops on dissociation, emotional regulation, and attachment issues. This course stands out above all the others. Combining EMDR with ego state therapy, and drawing from both traditional and innovative methods for working with dissociative disorders, Carol Forgash presents an integrated and nuanced approach, offering a variety of tools and strategies that are immediately useful. She is, moreover, a great presenter — clear, thoughtful, warm, and humorous. This course is well worth the time and cost.
I just finished your Healing the Heart of Complex Trauma Course. I got a great deal out of it which I'll use for the rest of my career. I thought you presented extremely well. You stayed on task. The examples you used were excellent, and you stayed with the point of why you chose them. I've had some very good therapy weeks since I started watching it.
Your course and book, "Healing the Heart of Trauma and Dissociation", are absolutely priceless in helping therapists structure their own style of working with EMDR and Ego State Therapy. Putting these two together is like peanut butter and jelly, it works so well.
The way you explain and teach is very logical and matter-of-fact. You encourage therapists to consider their own processes and creativity in helping the client understand their ego state system.
The demo session of your streaming course was awesome! It is great when we can practice on each other, but I really learn when I can see the instructor do it. Watching the process and having used it already, it was wonderful to see some of the same results coming out during the stabilization section and use of EMDR techniques. It helped me feel more confident in what I have been doing and super happy to see I am doing it right!!
I have taken a few different online trainings for Ego State Work and dissociation and this is my favorite of all of them. Your book is the one that I will be using to guide the structure of my ego state and EMDR therapy work.
This course is available in two formats – DVD and Online Streaming.  The DVD format can only be viewed in the US, Canada, and the Caribbean.  For all other regions, purchase the online streaming format.